If your application requires the manufacture of bespoke silicone extrusions then it is likely going to require in depth profile design and therefore the creation of new tooling. It is important that you work with a specialist silicone rubber manufacturer that can ensure your application receives the right silicone seal.
It is vital that your silicone extrusions are of the highest quality and perform exactly to your application requirements, and that these requirements are met in a timely and cost-efficient manner. The right silicone rubber extrusion supplier will make sure that these standards are met, helping guide you through the design and tooling process.
To give you an insight into this product development phase and to highlight the benefits of using a specialist rubber manufacturing partner, we have put together this short step-by-step guide to the silicone extrusion design and tooling process.
A step-by-step guide to the silicone extrusion design process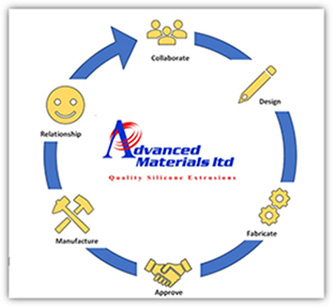 Step 1: Collaborate – our design team works with you to develop an understanding of your application. You can let our team know the desired outcomes and what the seal needs to achieve.
Step 2: Design – work with our design team and make use of their specialist knowledge. They will suggest materials and profile designs that suit your application, with CAD software used to effectively communicate the design proposal.
Step 3: Fabricate – we can offer tooling and samples prior to full scale production to allow you to test the proposed solution on the application.
Step 4: Approval – based on the performance results from the fabrication phase, your product design can be amended and optimized, with expert input from our design team. Once you are 100% happy with the product design, we can commence with full scale manufacture.
Step 5: Manufacture – your product now goes into mass production, with batch manufacturing volumes based on your initial estimation of market requirements. We have the facilities to manufacture our silicone sealing solutions from start to finish, in-house, using our state-of-the-art equipment.
Product design, tooling, and your silicone manufacturing partner
When commissioning the design of silicone extrusions, which is a process that includes tooling design and production, it is important that you work with a specialist silicone rubber manufacturing supplier that has these capabilities.
Using such a partner gives you access to the specialist personnel, such as design engineers and toolmakers, and to the advanced technology, such as the latest CAD software and EDM wire cutting machinery, that are necessary to ensure that your silicone extrusions meet your quality and performance expectations.
This expertise gives you access to clear advice, adaptability and quality assurance, it will ensure that your silicone extrusions fully meet your specifications and consistently perform their function to the highest standard.
To find out more about Advanced Materials' silicone rubber manufacturing services, contact us on +44 (0)1903 713566 or sales@amsilicones.co.uk.