The move from 2017 to 2018 has been an impressive one for the growth of Advanced Materials, with rising demand for our silicone products and services.

In order to maintain exceptional customer service and quality products throughout this time and in the future, our office team grew by two additional members and in the manufacturing departments by four.
The key to the success of Advanced Materials is our team; therefore, appropriate training and communication of our products, processes and culture is what enables us to continuously improve our services for our customers.
That's why, last month, the sales and orders teams, (which are usually office based), took to the factory floor to learn the complex manufacturing processes of our diverse range of silicone products.
Their training programme was split between the various silicone manufacturing departments:
Compounding procedures
First up was to learn about how our material is formulated; this is a critical step for producing our many specialist silicone compounds that meet very specific standards.
Our in house milling department is what allows us to manufacture the many different small and large batch extrusions critical to our product range.
Some of the different compounds we have include General Purpose (GP), High Strength (HS), FR70R (low toxicity for mass transit applications) and many others (including our newest Food Grade Sponge (FGS) formulas).
Derek, our compound specialist of 20 years taught Nancy, Sue and Karen the many steps taken to ensure the correct rubber is mixed for every production order.
Our ISO9001:2015 approval governs the procedures taken to ensure the highest quality material is manufactured.
Vital steps to the compounding procedure includes:
Formulas calculated using an in house calculation database that allows the user to see the exact ingredients needed for each silicone compound.
The parts are measured by the operator, using precision scales and documentation taken for each part to state how much has been allocated to the batch.
The material is mixed to the required quantity and a sample is taken for analysis before it can be released for extrusion.
Once the sample is passed for hardness, colour and grade it is sent to the extrusion department for further processing.
Extrusion procedures
Second was to learn about the core process of our production which is extrusion. This is where all our products start. We produce metres of profiles which are sent directly to our customers or to various other departments within Advanced Materials. These additional operations include vulcanised joined gaskets, punched gaskets, injection moulded parts, inflatable seals, Self Adhesive Backing (SAB), moulded parts and much more.
Thomaz and Bradley are the Operations Managers and are responsible for the quality, efficiency and general manufacturing service at Advanced Materials. They were next to teach Nancy, Sue and Karen the steps to creating precise extruded products.
We are able to meet very stringent criterion when it comes to silicone extrusions; not only with material specifications but also profile tolerances and shapes. Our expertise is second to none and training is important to keep this standard high.
Again our ISO9001:2015 approval governs the processes in place for maintaining the quality of our extrusions.
Vital steps to the extrusion procedures include:
Job set up – critical to the uniformity of our products, therefore each job has specific set up guidelines in order to maintain integrity from every product run.
Product specification; meet the drawing tolerances (E1 as standard unless otherwise agreed) and make sure the correct material is used for the production run to meet strict standards.
Once the manufacturing process has started, records are kept at specific intervals throughout its production, this ensures future traceability of our products.
Each coil (25m coils as standard, unless otherwise stated) has a sample kept from it, and this is stored as a production sample for 5 years in order for us to again keep traceability of the products.
Each product is post cured to the correct condition (see post-curing process)
A final inspection is done before it can be released for any further process.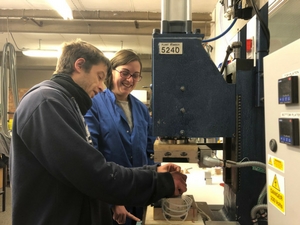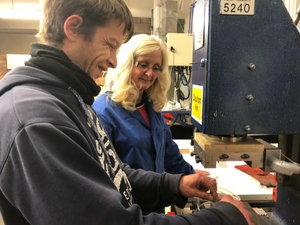 Tool making department
Bringing our tool making in house has been a game changer for us. It has allowed us to keep lead-times and costs low for all new products. Extrusion and vulcanise joining tools are the bulk of our tooling, and these are created bespoke to fit our processes; meaning quality is maintained throughout the product life cycle.
Secondly, it allows our design team great flexibility when it comes to complex extrusion; this is because we do not rely on a third party for any design changes. Our in house engineers are able to use the machinery to adapt tooling with ease and efficiency.
Vital steps to the tool making process include:
A drawing or sample from the customer comes through to our design engineers
An internal drawing is produced and sent for approval to our customer if necessary
Once the drawing is approved it is cut according to specific design characteristics depending on the material being used
Once the tool is cut it is sent to the extrusion department for initial sample and design creation; any adjustments are made during this process by our extrusion design engineers.
The initial sample is then analysed to meet the product specification, and must be approved by the operations managers before being released for full scale manufacture.
Post-Curing procedures
Post-Curing is the thermal post treatment of vulcanized articles manufactured from our silicone compound.
Post-curing is used to complete the extrusion process and allows the material to gain its full specific properties. It allows the following
The removal of peroxide decomposition and by-product
The removal of short chain silicone fragments
Degradation of excess cross linker within the extrusion
Improving the mechanical properties of the material
The two main targets of post curing are:
To reach full level mechanical properties, for example compression set or tear strength.
To reach the required levels for FDA and WRAS; including

No presence of hazardous decomposition products
No presence of smell and taste problems, for example in drinking water.
Training is given to every staff member on the importance of the post-curing process
It's all part of Advanced's commitment to having the whole team fully in the know about the workings of our business and maintaining the family ethos.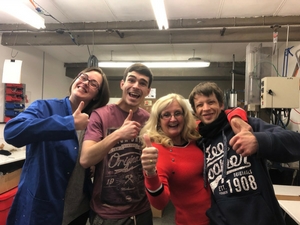 The office staff enjoyed the change of scenery while doing their practical training and all the team thought the work they did in the factory was excellent!
Next month we will discuss the thorough Additional Process training at Advanced Materials.