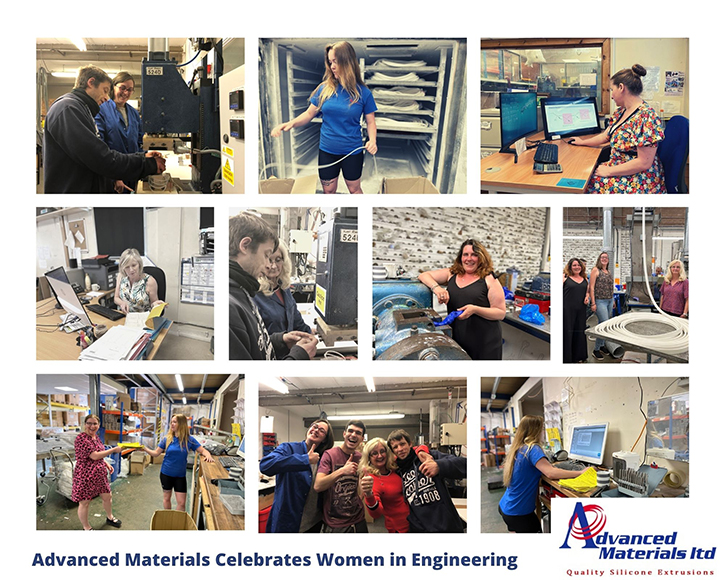 According to a report by the Women's Engineering Society, which was carried out last year, women make up 14.5% of all UK engineers. This represents a 25.7% increase in women in engineering occupations (compared to a 4.6% in the overall workforce) since 2016.
International Women in Engineering Day will celebrate its ninth year on June 23, 2022
and at Advanced Materials, we are pleased to say that we are a UK silicone rubber manufacturer which recognises the vital role that women play in engineering and a business which helps to make up those numbers.
A large proportion of the senior roles at Advanced Materials are held by women and in turn, we have a fair few female faces on the factory floor. We appreciate that everyone is different and has their own valuable skill sets which can benefit our business, no matter their background, and we are committed to equality.
In recognition of the tremendous contribution that women engineers can make to UK engineering, we took some time out to chat to some of the women who are key to our business, to find out about the changing roles of women within the engineering and manufacturing world, and to see if they had any advice they would give to budding women engineers of the future.
Technical Drawings For Silicone Manufacturing
Villeater Gladman, 43, is the Technical Director at Advanced Materials. She acts as the technical liaison for customers and staff, interpreting customer needs via technical drawings for manufacture.
Villeater is able to interpret customer requirements via technical drawings and identify any potential problems which may arise during the manufacturing process, balancing customer needs and the constraints of manufacture. The role requires an aptitude for understanding technical drawings and applications to gauge manufacturability and ensure the product can continue to be manufactured to a high standard over time.
In her early years, she always had a passion for maths and science and a desire to follow a career designing parts for cars used by F1 teams. It was this which led her to undertake a National Diploma in Engineering (Motor Vehicle Studies) at Northbrook College, based at Shoreham Airport. At the time she was the only girl in her class and indeed her whole year group but she is pleased to note that now many more girls are taking up the Engineering courses they offer.
Following college, Villeater began a career in technical sales in 2001, moving to Advanced Materials because the opportunity came with the freedom to grow the role. From this, her love of silicone manufacturing grew.
She said: I'm very passionate about the extrusions industry, particularly the manufacturing side. I enjoy problem solving for an application and seeing it come to fruition. The theoretical side of engineering has always appealed to me, ever since school, but, being a girl, everyone assumed I would fail and that it wouldn't be something that I wanted to pursue, once I found a man – women only care about the colour of a car, not how it works, surely?
"To this day, people are often surprised when they find themselves talking to a woman on the end of the phone, but it's definitely a world that's more accepting. I find the job very satisfying, as there is something new every week – a different application, new problem solving, new things come up, and we have some great customers, some of whom we have worked with for 20 years.
"I would very much like to see more women go into engineering and would say – if you find maths and science interesting, keep pursuing it. Don't be put off by any traditionally male dominated fields. The representation of women in engineering and the presence of good role models matters".
Silicone Manufacturing Finance, HR and IT
Jill Poore, 60, is the Finance Officer Manager at Advanced Materials. She began her role with the company in 2012 and manages the office and accounts for the HR side of the business. She came to the role, having been an IT network manager for a high school in charge of a team of all-male IT technicians and would regularly find herself the only woman in meetings.
She said that when she first left college, it was assumed that she would go for a secretarial job, or another one which would fit in with female stereotypes of the time. Now, she said, there's no reason why women today should ever be put off from working in a male-dominated field.
Today, Jill's role includes skills she has developed within her position. These have included the ability to be able to review technical customer drawings and identify what they are, review quotes, work to budgets and organise material purchasing.
Jill said: "What I love about working at Advanced Materials is the fair progression policy which transcends genders. If you show the ability and you can do the job, you can get moved up. Having progressed from the more customer facing side of the business, my job now requires a broad skill set, so being able to multitask, plan and compartmentalise is key – as well as the ability to be independent and a quick thinker.
"Being a woman should never hold you back from any career. Believe in yourself and don't be dictated to by historic archetypes. Years ago, women shut themselves off to certain roles, now the younger generation is more accepting. Men see a strong female presence in our business and it sets a good example.
"Be open minded, practical, organised and have a willingness to learn new skills. Whatever the role, if you have an interest/ability….ask yourself 'Why not me?' It's important to believe in yourself ….go for it, whatever your gender!"
Silicone Manufacturing Quality Assessments
Nancy Orton, 32, is the Advanced Materials Quality Assessor working with industry standards, declarations, audit criteria, inspection of products and customer complaints. It's her role to interpret what has gone wrong in a process and find a way to fix it.
As such, she has to carry out regular quality inspections and has the power to stop production, whenever and wherever it's required. Having worked offshore previously for the oil and gas industry as an Assistant Life Support Technician for deep sea diving supervisors, she's no stranger to working in an all-male environment.
She said: "I've always worked in male-dominated roles. I've been a manager and trainer of a team of 50 (mostly male) lifeguards and on the ship, I was the only female out of the 310 people on-board. Even on the training courses for the role, I was the only woman there. These sorts of roles are just not advertised towards women.
"I've always had active, physical, jobs which aren't seated. I have an analytical mind, and need something that challenges my brain, which is what made me more suited to the quality assessment role. I'm passionate about the silicone manufacturing business, find the job really interesting and love that there is always something new to learn and so much variety. This includes reading customer technical drawings and interpreting them, then making them work and seeing them through to reality.
"I don't think old-school. Have faith in yourself and don't be inhibited by your gender. If you have the skill set, then do it. Always go into manufacturing if you want to, because it's never the same and you're learning every day."
Silicone Manufacturing Sales Advisor
Sue Vincent, 62, has been a Sales Advisor at Advanced Materials for seven years, having worked for the Inland Revenue for 33 years. Her role includes receiving technical drawings, calculating the cross sectional area and creating quotes for customers, all of which require an aptitude for maths and understanding of technical drawings. She says it's not uncommon for people to assume she is non-technical when they call into the business, however she finds herself answering technical questions on a daily basis.
She said: "It's great to see women working in all aspects of engineering these days and now girls work on the factory floor. If I were to offer any advice, it's to enjoy the banter, stand your ground, show your skill set and believe in yourself. Women have some amazing skills to bring to the workplace, and we excel in customer relations building and multi-tasking".
Silicone Manufacturing Customer Service Specialist
Mother of two, Sara Hughes, 40, is a Customer Service Specialist at Advanced Materials who liaises between customers and the team to ensure orders are processed smoothly.
Her role involves instructing the extrusions team on the type of products to make and dispatch internationally. It requires an understanding of the silicone manufacturing industry and the processes involved, the ability to interpret a technical drawing and ensure that the final product is the same as well as maintaining customer relationships.
Sara originally started out working in the retail industry, but wanted the challenge of trying something new.
She said: "When you land in the world of engineering and manufacturing, it can feel very strange and bewildering, especially when you haven't been used to male-dominated environments, it takes a while to get your head around things, but once you've got the basics, you realise there were lots of things that you didn't know you knew.
"It's important to try something different, to find your place in life and the career that's for you. This role is something different, it's more than a job and there's something different to learn every week.
"I'd say to anyone considering a career in manufacturing and engineering to take the leap, don't doubt yourself and give it a go. I was worried I might be stuck working in a shop for the rest of my life, and now I'm working in a supportive atmosphere, where every day I'm surprised by what I know. It just goes to show that you can approach your career from any angle and still make it successful."
To find out more about the silicone manufacturing services provided by Advanced Materials, get in touch with a member of the team today on 01903 713566 or email sales@amsilicones.co.uk.